Judd Apatow is probably most recognised for his credits as producer on a lot of the biggest comedies of recent memory, such as Superbad, Pineapple Express, Anchorman, etc. which is a shame given that his talent as a director often sits in the comfortable second place. I'll say right away – I don't think Apatow makes consistent hits, in fact, I think he misses more often than he hits – but when Apatow does hit, it's always an out of the park home run. This is the case for Funny People, an Adam Sandler driven drama-comedy (dramedy) that manages to capture the dark realities of celebrity life being far from the utopia it is so often represented as as Adam Sandler's George Simmons (who is just an exaggerated Sandler caricature, but an affectionate one) receives some… upsetting news about his health and has to deal with that. Funny People investigates this great divide between how comedians are seen in the public spotlight and their everyday lives, which, in the film at least, are just the same as everybody else's.
Seth Rogan's character in that film is a young comedian trying to get his career moving, receiving little or no pay for thankless gigs and barely being able to afford rent – the usual rags to riches story, as I'm sure you can imagine, and so, it makes sense that Apatow would turn his direction 11 years later to Pete Davidson, a young comedian who seemed to explode out of nowhere from age 17 who carries more baggage than many would expect given his persona as a comedian. The King of Staten Island is an investigation into Pete's life, and as one of the featurettes say, it's an 'entirely fictional' account of Pete's life 'had he not found comedy' as an outlet, making him a wannabe tattoo artist instead.
It is interesting to see someone like Apatow, who tends to focus his films on middle aged and middle class characters coming to terms with the meaningless, or just the boringness, or their lives, turn his focus onto someone like Pete as a main character to investigate the half-dead slacker culture that seems to have been effectively killed off by the never-ending rush of rat races amidst the search for fame that seems to trouble most every millennial. The King of Staten Island is the first Apatow directed film to focus on a young person since Knocked Up 13 years before, and so with some newfound maturity, Apatow returns his focus to younger people.
With a soundtrack comprised of 2000s hits – let me bring the highlight to the film's theme, Kid Cud's Pursuit of Happiness remix (Davidson has been quoted to say that Cud's music affected him deeply after the loss of his father) – The King of Staten Island is surprisingly reminiscent of Jonah Hill's directorial debut from 2018, Mid '90s, as it looks at a dying niche culture and tells an autobiographical story for those involved in the production. In the case of King of Staten, the story is Pete's, following his life after the death of his father as he still struggles to carry the burdens of his traumas and continues to lose the aggressive boxing match he has with his work ethic. Despite the fact that Pete (whose character is called Scott) is 24 in the film, it very clearly functions as a coming of age story, just one that takes place a little later. Detailing struggles with relationships (mainly with commitment issues), feeling like a failure, struggling to let the past go, etc, it may be needless to say that this one hit pretty close to home, especially in its quite minimalistic portrayal of mental health – here, Scott's struggles with ADD, depression and potentially anxiety are made into character traits as opposed to the usual representation where these mental illness BECOME the character and overwhelm every other part of them, which is great to see as it rarely happens, especially in a comedy.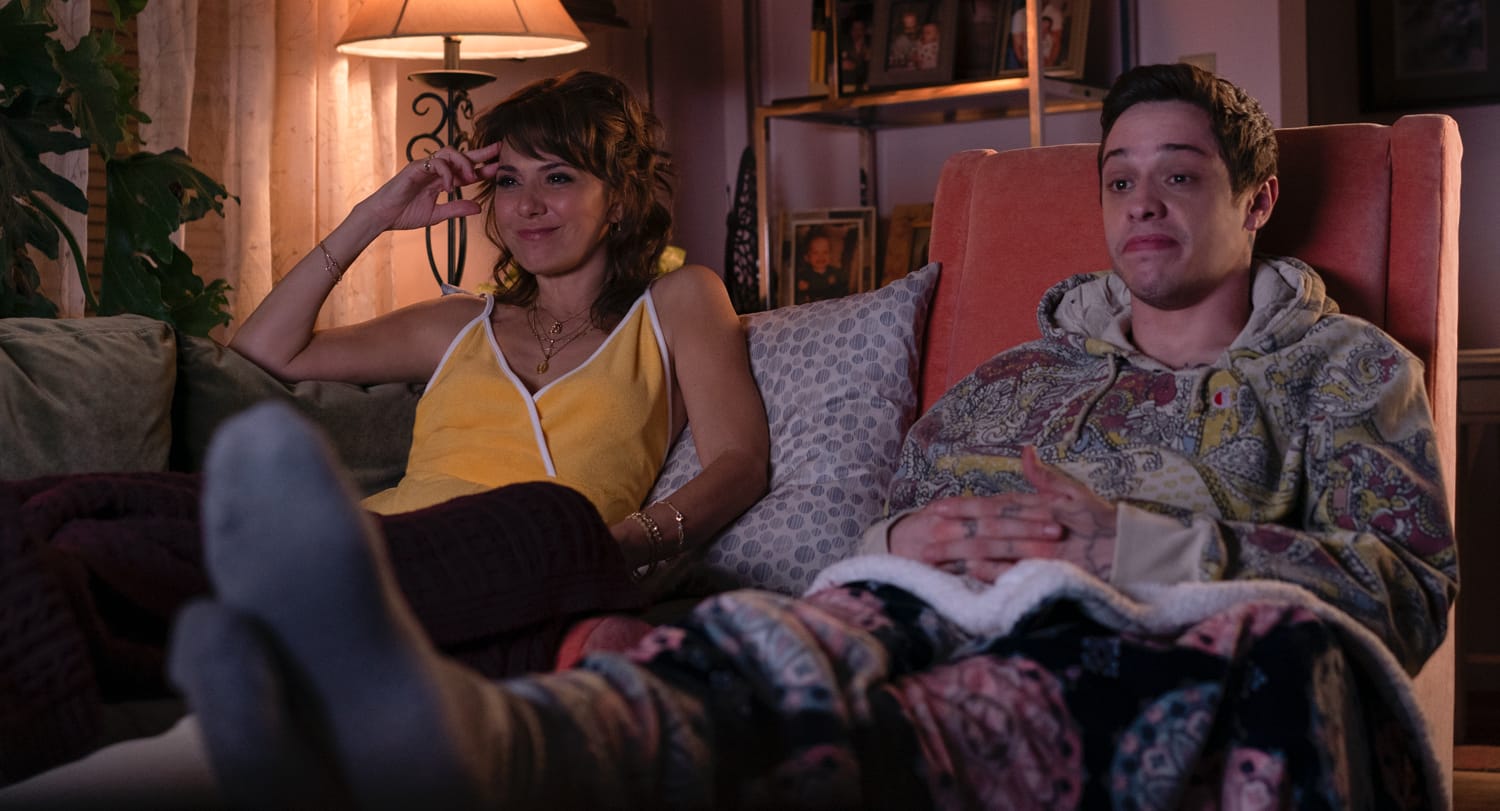 For every laugh in the film, of which there are many, there's another moment that points out smaller ideas regarding dealing with loss or relationship struggles or anything else, and gradually Apatow lets the script breathe (the 136 minute runtime may seem indulgent for a comedy, but this film certainly warrants it and requires it for the impact that it has) just enough to fully form and reach the emotional climax that the story earns. It's plenty irreverent and quirky, but it is brilliantly grounded by its heart thanks to the cast and the script – Bill Burr and Marisa Tomei give fantastic supporting performances as the parental influences in Scott's life who try (emphasis on try!) to guide him through and help him see his potential.
Whilst I do disagree somewhat with the ultimate point of the film regarding aspirations, I do think that it is delivered in such a believable way that it's only the dreamer in me that rallies against it. Everything else here is staggeringly beautiful, and really deserves to be seen by all. I really hope that the film does well financially given that it is one of the first sample films released at home during quarantine – it would be a real shame for Apatow's finest work (by quite a margin) to sink just because of unfortunate timing.